Our Scholarship Awardee was Israel David.  He is 10 years old and both of his parents are veterans with the US Army.  Israel has qualified for the Junior Olympics Track and Field Championships for several years now and he LOVES to run.  His goal is to compete in the US Olympics and he has a terrific great determination to fulfill his dream. Brilliant kid in the academics department as well.  Dance for Dreams is so humble to be a small part of his endevours. His grant covered $500 of his expenses to the 2015 National Junior Olumpic Track and Field Championships in Jacksonville, FL held July 27 – August 2, 2015.
Come to our next upcoming meeting to find out more on ways to support our nonprofit organization.  See you then!
————————

BREAK

-———————————-
Welcome to our Dance for Dreams webpage!


Dance for Dreams is a 501 © (3) nonprofit organization registered back in March 2012.  The organization is classified as a Public Charity under Code 509 (a) (2).  The organization was founded by Deliris Montanez (Dee) with the sole purpose of raising funds to foster, support, and develop amateur athletes within the El Paso, Texas community youth (between the ages of 10-17 years of age) in local, regional, national, international organized event competitions. 
The organization's goal is to be able to fund a Scholarship Program while conducting dinner, dances, concerts, and more. These events are always posted on http://www.facebook.com/dancefordreamsfoundation.
The organization's vision is to help the awardees to stay in school, off drugs, and away from gangs and violence, so your participation makes a BIG Impact!
Of course, we can not accomplish this alone and because of that we have created a donation site in where you can assist with the cause from around the globe. When you donate online to Dance for Dreams, you join our cause and directly support children in El Paso. All money stays in El Paso. No matter how little or big the amount, donating can start making a difference in the lives of young people around you.
Tickets on sale NOW! Call 704-293-4307 to make your reservations.  Leave a message with a call back number.  Texts are preferred due to schedule.
Donate on this link and on the comments specify how many tickets you are purchasing.  Your name shows up automatically as a facebook user.  I will acknowledge payment and you have reserved seating.  Purchasing your tickets in advance will give you an extra raffle ticket for every person you reserved for.
Option1:
https://facebook.com/dancefordreamsfoundation (payment via paypal or credit card)
Option 2:
Mail your payment payable to:  Dance for Dreams P.O Box 12704, El Paso, Texas 79913 
All items are tax deductible for your noble donation.
2016 Jug Huggers Fundraiser: Available in Black, Red, Blue
$35 plus shipping if applicable
2018 Ball Caps, Binnies, Head Band
See prices listed on photo listed
Method of Payment:
Preferred Method to avoid processing fees: Money Orders, Certified Checks, or Bank Checks Payments. Please add $5.00 for flat fee shipping cost. Send to:
Dance for Dreams
P.O Box 12704
El Paso, Texas 79913
Sending a payment via www.paypal.com to www.dancefordreamsfoundation@gmail.com email address. This service is FREE to us. Make sure you are clear on items ordering on the notes box. Please add $5.00 for flat fee shipping cost.
Pay with a credit card on www.paypal.com sending payment to email www.dancefordreamsfoundation@gmail.com. We get a service fee with this method but it is available to you.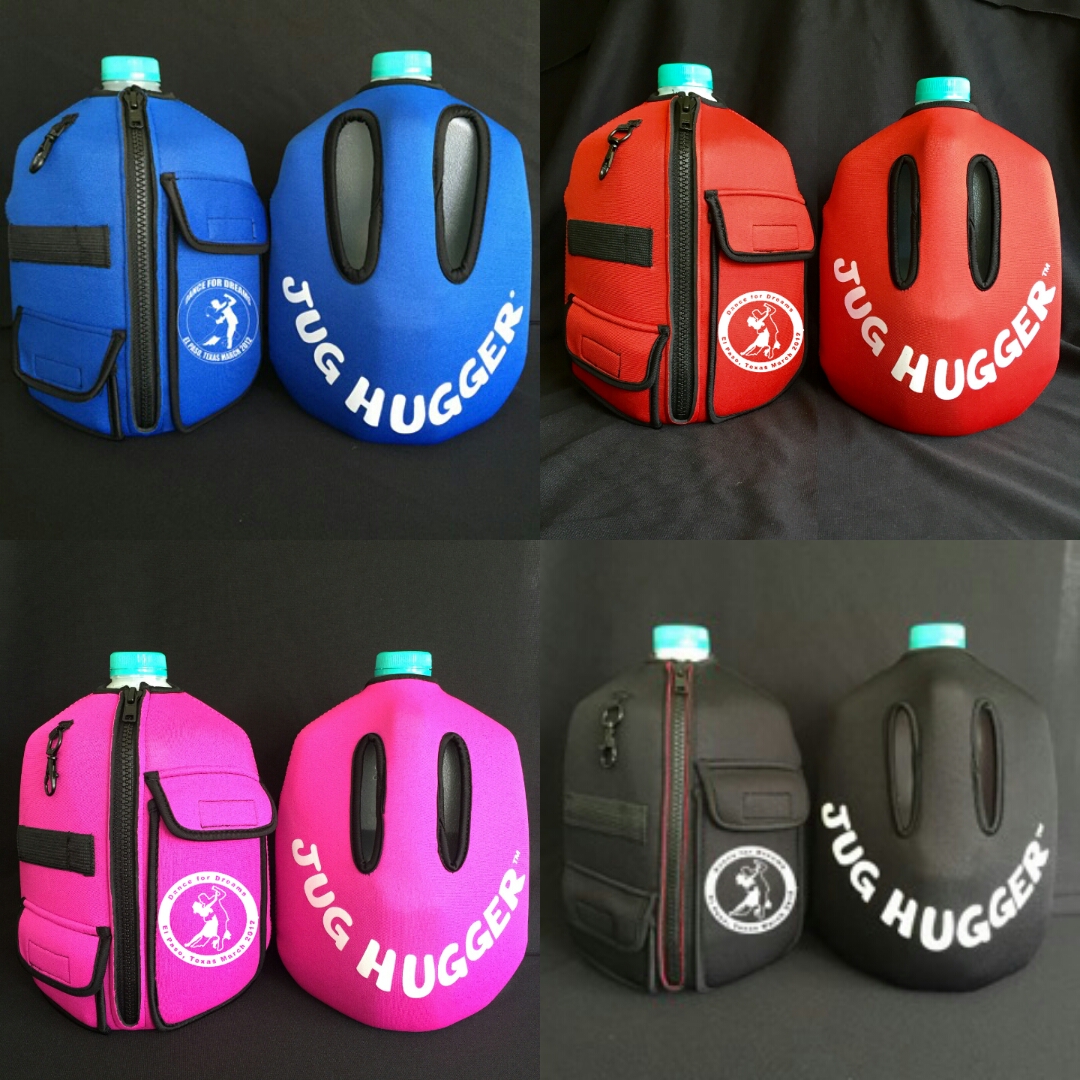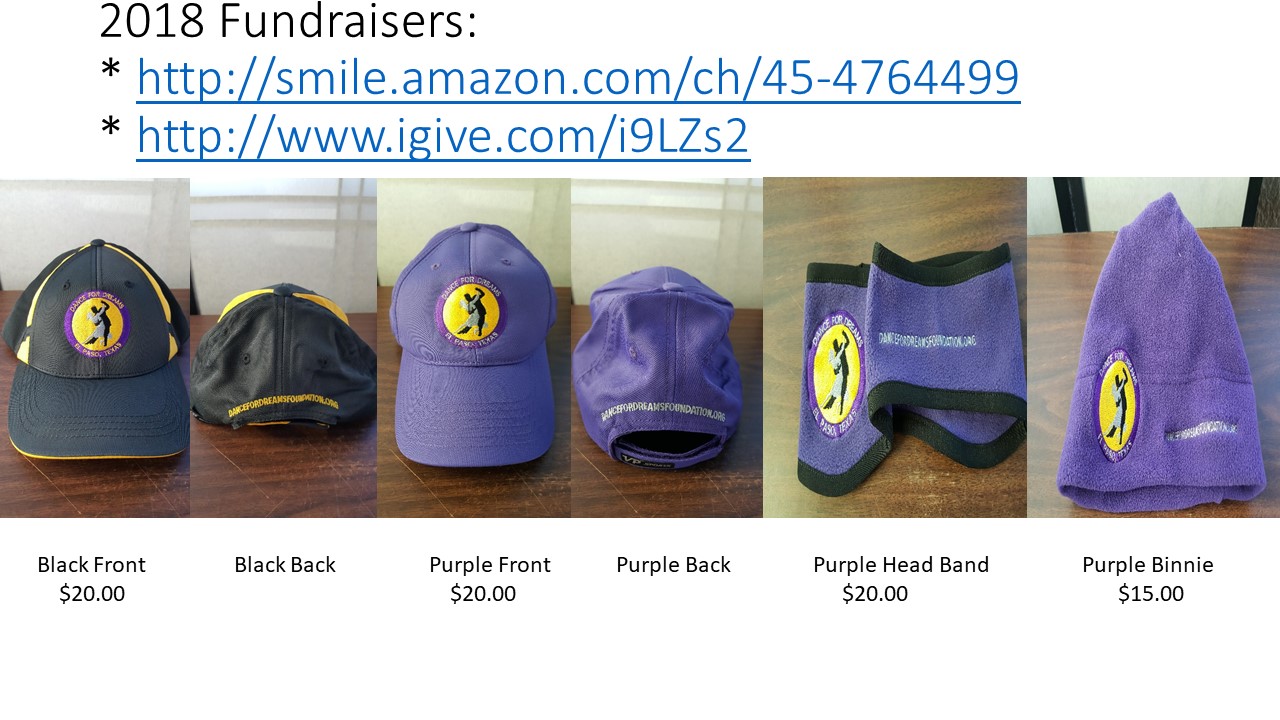 STORES TO PURCHASE FROM TO AUTOMATICALLY DONATE TO CAUSE
Amazon.com Purchases link https://smile.amazon.com/ch/45-4764499   
Use the link above when making amazon.com purchases to help our organization. 0.5% is donated to charity 
IGive.com Purchases link  http://www.igive.com/DanceforDreams/?p=19992&jltest=1
(Over 1,500 online stores to purchase from) Each store donates a percentage of their sales
---
2015 Scholarship -Awarded on April 30, 2015
         * Scholarship Awardee Student was Israel David.  See Home Page Tab for more information.
2019 Scholarship – Open Season NOW.  Awardee will be announce on November 16, 2019.
         - Go to Forms and Documents tab to print out  application. Or open attachment at the bottom of this page. Good Luck!
---
 Next Dancing Event 
         * See Announcements.
---
 Next Meeting – TBD on FACEBOOK Closed group chat room (Must be a member to participate)
         * Membership forms will be available
- $35.00 pp  
         * See Monthly Meetings Tab for more details and Home Page for location and times information
---
Fundrasiers: 
         * See Announcements 
---
Booths: 
         *TBD
---
Challenges: 
         *  See Announcements
NEW: Go to the Events Survey Tab, fill it out, submit via mailing or email , or print copy of answers and bring it to next event to receive an additional raffle ticket. More chances to win prizes. 
The document Scholarship_Application_Rules_Ammended__January_1__2019_.doc was attached to this post.
Next dance in 2020. Information will be posted at a later time.